Garage Door Springs
Back To Our Services
It is easy to notice the long torsion garage door springs, which are set over the door, or the smaller extension ones, which come in pairs and stay on the sides of the door or above the horizontal tracks. Even though these components have differences in their design, appearance and setting, they perform the same job. They counterbalance the weight of the door during opening and closing through the application of torque or through stretching and contracting. If a problem with these components occurs, we will come and resolve it effectively and quickly.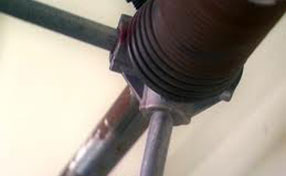 Expert Service for Perfect Operation

Our company specializes in both torsion and extension springs repair. You just need to contact us for assistance and we will come and provide a comprehensive solution that will eliminate the problem and all the potential threats associated with it. We have a fast and dependable emergency service designed to provide garage door repair on an urgent basis. We are readily available to deal with the issue on the spot.
Our expertise enables us to provide effective solutions to all sorts of issues from overly noisy overhead door springs to balance problems which cause the door to behave oddly. Our technicians are perfectly professional and highly skilled. All of our specialists receive professional training on a frequent basis for staying up to date with the most recent innovations in our industry. This enables us, at Garage Door Repair Royal Palm Beach, to provide the ideal solution to components developed and used by different brands from Clopay and Stanley to Amarr and Martin.
Another one of the core factors for our success is that we have readily available spare parts. If you call us for replacing a broken garage door spring, you can rest assured that we will come with a replacement part that matches the specs of the original one precisely. Our warehouse is fully stocked and excellently managed. As a result, both our regular and emergency teams have direct access to spare parts and use them to provide repair without any sort of delay. We achieve even greater speed in our work thanks to our advanced precision tools as well.
Our comprehensive door maintenance service is designed to provide optimal performance and complete safety. We have everything necessary to take perfect care even of the most specific torsion coil trampoline springs. We keep them in excellent condition and ensure replacement before breakage occurs.
Reach us online by using the contact form on our website!