Garage doors Can Add Security
05/15/2014
Back To Blog
If your garage doors are over a decade or two old, they can be simply replaced with doors that are more secure and add a touch of art and beauty to your home.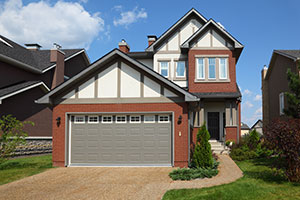 Better Materials
For many years, there were only three choices for garage doors…steel, wood, or aluminum. Today, the three are still available, but there are others, such as vinyl and other materials. Aluminum was highly touted for years as the most durable and long lasting material; however, vinyl is proving to be more long-lived.
Vinyl
Vinyl garage doors are durable and flexible and you can expect years of use out of a door made of this material. Because of their flexibility, they are built on steel or aluminum frames for enhanced security. Sometimes steel is covered with vinyl, for those applications where security is of paramount importance. The color is a part of the vinyl material, and you never need to paint the doors. In addition to being weatherproof, it can also have insulating characteristics, keeping the ambient temperature of your garage suitably warm or cool.
Steel
Steel garage doors are the most impervious to tampering; however, one of the biggest drawbacks is their tendency to rust in inclement weather. The life of a steel garage door is entirely dependent on the weather to which it is exposed. It is a poor choice for very wet climates, or environments where it is exposed to seawater. Steel doors need an increased level of maintenance, such as painting, rust removal, and more.
Aluminum
Aluminum tends to wear better than steel, as it does not rust; however, unless it is kept freshly painted, it can look dull and weather-beaten. Aluminum garage closures are also prone to dents and dings. This can detract from the appearance of the home.
Wooden Doors
Wooden doors are considered somewhat old-fashioned, and they require a high degree of maintenance. On the other hand, they can be quite beautiful. The wood needs paint or stain to protect it from the elements. It requires hardware that does not rust. Exposure to wet conditions can make the doors warp, causing problems when it comes time to open or close them.
When considering new garage doors to update the appearance of your home, you need to take maintenance into consideration. Whatever you choose, make sure it is something you can enjoy for years, without thought of care.